Beauty Timeline—For serial party peeps
The best part of a major party season: getting your game face on. The worst: taking it off. Luckily, we'll be your wingman through both those situations - By Parizaad Khan Sethi
Like most fun activities, half of the joy of partying all night long comes from the anticipation. To pump up your pre-game routine, get a blowout, cue up some Beyoncé, pour a nice red and flex your makeup muscle.
The absolute worst, of course, will be the clean-up, but give yourself a dose of tough love and just do it, no matter how many times you dove face-first into the Jäger.
Pre
Set the tone
1
Perfect the skin so you need less makeup. Before you do anything else, exfoliate (we're lovers of chemical exfoliants; scrubs are for feet).
4
If you're bumpy: if skin texture is a little uneven, or if pores are a problem, gently tap on a pea-sized amount of primer, like Dermalogica Skinperfect Primer SPF 30, to smoothen things out.
5
If you're oily: To greaseproof your skin, apply a thin layer of NYX Shine Killer on areas that tend to get greasy. (Experiment with shine stoppers: some work better over moisturizer, while others perform well when tapped gently over foundation. Play around till you find the sweet spot.)
6
If you're dry: A great trick is to start applying foundation right after you put on moisturizer—it goes on easier and looks like a second skin.
7
With skin prep complete, it's time to move on to the main event: the glitter. Just kidding! Here are our tricks for the most flawless base and try out this season's major looks for eyes, lips and nails.
During
Don't do much besides having fun
1
Carry blotting papers to blot areas that get oily.
3
Don't worry about makeup. Live in the moment.
Post
Deal with the aftermath
1
What goes on must come off. Wasted? Too bad. We've all been there. Start stripping off eye makeup with Kiehl's Supremely Gentle Eye Makeup Remover; foundation and everything else can be taken off with a cleansing oil. Then wash your face with a facewash, or cotton on some Avene Gentle Milk Cleanser, and splash with water. Read more about this double cleansing method here.
2
In case of extreme laziness use Bioderma Sensibio H2O, followed by a facewash. (Heavy eye makeup will still not budge; you'll need a dedicated remover for that).
3
Don't even dream of using face wipes. They won't cleanse properly and are not capable of removing heavy makeup. They contain alcohol (the devil), plus detergents and preservatives and leave that residue on skin. If you're doing this, reevaluate your skin priorities.
Beauty Timeline—For serial party peeps
Free product added to bag
ADDED TO BAG
Rs. 788
Rs. 875
[-10% off]
Free product added to bag
ADDED TO BAG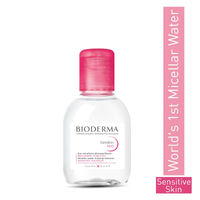 Parizaad Khan Sethi
is a beauty and wellness editor based in New York. She was the former beauty editor at Vogue India and now serves as a contributing editor for the magazine. At age 5, Parizaad fell in love with an old cream blush she found in the back of her mother's drawer, and has been in awe of the transformative power of beauty ever since. When she's not writing about beauty, she researches advances in skincare as a hobby, and is constantly guinea-pigging herself in the name of beauty.
Stay in the know! Sign up to Luxe Letters