Coming up roses
If you've never known the pleasure that is a spray bottle of rose water, get one ASAP and use it in these five genius ways By Parizaad Khan Sethi
Besides your skincare, if there is thing that should be within grabbing distance on your dresser, it's a spray bottle of rose water. Get your paws on a bottle of the pure, steam-distilled stuff (you can't go wrong with either Kama Ayurveda Pure Rose Water or Forest Essentials Facial Tonic Mist Pure Rosewater). It's a spray gun of the very best kind!
Here's how to use it:
To up hydration levels
Rose water is a mildly hydrating ingredient, so spray some on any time your skin feels tight or dry. Follow that up with a light moisturizer, so that the nurturing goodness of rose is locked into your skin, and doesn't just evaporate (learn more about this here).
As an in-flight refresher
Take a TSA-approved size of rose water spray on the plane with you and puffy eyes and blotchy skin will not be in your fate when you disembark. Spritz on at regular intervals to feel refreshed, plus add back the moisture that the dry cabin air is leeching from your skin. Then top it off with a serum or moisturizer, or if you're willing to be hardcore, spritz on the ol' RW and then slap on a creamy mask. It's the beauty equivalent of joining the mile-high club. You know you want to.
A natural redness reliever
Rose water has great anti-inflammatory properties, so when redness and irritation are running wild, bring out your rose spray gun and zap them. (There's a Guns N' Roses pun in there somewhere.) You could use it to calm any type of inflammation, from acne and shaving burns to mild rashes.
Add it to a face mask or ubtan
Dry face masks are the bomb. They allow you to add a liquid component of your choice; there are endless possibilities to tailor-make the mask depending on your skin's needs that day. Add in rose water to a clay or multani mitti-based mask to soothe oily skin, or add it to a creamier formulation for an added shot of moisture. Either way, the smell will be beyond. Do a few minutes of pranayam when you have a rose water-enriched mask on. It's calming and centering, and deep breathing is more fun when you have sweet-smelling goo on your face.
As a hair fragrance
Add cupful of rose water to a large mug of water and use this as the final rinse for your hair after a shower. The enriched water will soften your hair, plus make it smell like you walked through a garden at moonlight. Or something equally #romantic #cheesy.
Coming up roses
Free product added to bag
ADDED TO BAG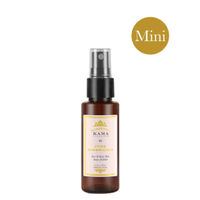 Free product added to bag
ADDED TO BAG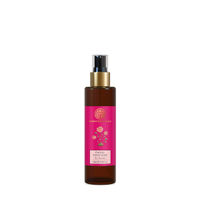 Parizaad Khan Sethi
is a beauty and wellness editor based in New York. She was the former beauty editor at Vogue India and now serves as a contributing editor for the magazine. At age 5, Parizaad fell in love with an old cream blush she found in the back of her mother's drawer, and has been in awe of the transformative power of beauty ever since. When she's not writing about beauty, she researches advances in skincare as a hobby, and is constantly guinea-pigging herself in the name of beauty.
Stay in the know! Sign up to Luxe Letters