East side story
A walkthrough the Kiehl's flagship store in NYC reveals motorbikes, skeletons, pooch shampoo and a skincare wonderland - By Parizaad Khan Sethi
New York's East Village has long been a manifestation of counterculture, an incubator for music and the arts, and an all-round badass neighborhood. And for 165 years, it has also been home to Kiehl's, the skincare brand that was born on the corner of 13th street and 3rd avenue.
Kiehl's started as an apothecary and that legacy is still nurtured and on display. The bright, glass-fronted space is a time machine to the century gone by—old wood and glass cabinets, antique test tubes and gilded chandeliers are very much part of the flagship experience. And so are the skeletal remains of Mr Bones, a relic from the age when founder Aaron Morse used an actual human skeleton for in-store show and tell, to explain various illnesses and their cures to his clients. It's all quite charming, a window into another world. You can almost visualize the cork-stoppered bottles covered by cautionary handwritten labels proclaiming: 'Warning: Contains Opium. Habit Forming'. As a more modern touch, a bunch of very handsome looking motorbikes were perma-parked in the store, but that's about all I can tell you about them, so let's skip ahead.
Kiehl's skincare cred is plain to see as well. Some products might have been created in the last century—Andy Warhol's favourite, Blue Astringent Herbal Lotion, was developed in 1964, and the first recipe for Original Musk goes back a couple of decades prior to that. But 21st century scientists have also made more than a few contributions to the row after row of skincare formulations. I'm introduced to the Nightly Refining Micro-Peel Concentrate, featuring the buzzy health ingredient quinoa (according to Kiehl's researchers, quinoa husk has exfoliation benefits). The juice also contains fruit acids, which help in exfoliation and phytic acid, an antioxidant.
When asked about what customers were currently most interested in, my guide pointed to a mask duo, both of which sound like exotic cocktails found at New York speakeasies— Turmeric & Cranberry Seed Energizing Radiance Masque, and Cilantro & Orange Extract Pollutant Defending Masque. The ingredients in the former are both potent antioxidants, while the second aims to protect and replenish dull skin exposed to pollution. My multi-masking antenna went right up after I sampled those.
While my hands, wrists and later, arms were being turned into testing centres for new products, I spied a couple of aww-inducing details. One wall was covered with a collage featuring Kiehl's babies (complete with a branded onsie, in case you know a discerning pre-toddler). And as part of the product stock are shampoos and conditioners for pets (adorable, though I've got to say, if your kid and pet are both the shop-at-Kiehl's kind of high fliers, it's bound to be a fun ride!)
east side story
Free product added to bag
ADDED TO BAG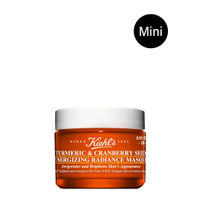 Parizaad Khan Sethi
is a beauty and wellness editor based in New York. She was the former beauty editor at Vogue India and now serves as a contributing editor for the magazine. At age 5, Parizaad fell in love with an old cream blush she found in the back of her mother's drawer, and has been in awe of the transformative power of beauty ever since. When she's not writing about beauty, she researches advances in skincare as a hobby, and is constantly guinea-pigging herself in the name of beauty.
Stay in the know! Sign up to Luxe Letters