Fall forecast
The fall-winter beauty schedule is out-the black smoky eye is reinvented, glitter is great in small doses and lips will go big or go home - By Parizaad Khan Sethi
This season, makeup artists said no to shine and yes to glow. Put down that disco ball highlighter in favour of something more natural but still luminous. Models on the fall runways had skin perfected with lightweight foundation and concealer, only where needed. A touch of light was brought to areas like the brow bone, inner corner and undereye, and tops of the cheeks. But use a subtle highlighting pencil like Bobbi Brown Retouching Face Pencil in Illuminate and not powder highlighter. This no-makeup skin pairs perfectly with any lip and eye look, or is fantastic just by itself.
Berry lips for fall? That's always a no-brainer. But this season go deeper and play with colours out of your comfort zone. Raspberry is great, but graduate to blackberry (NYX Full Throttle Lipstick in Nightcrawler is divine). Wear deeper shades either as a stain or make it a full-powered glossy lip, paired with clean skin and only mascara on the eye. Eyebrows are the most modern when they are thick and lightly filled in (try NYX Micro Brow Pencil). It's a goth romance in makeup form. Avoid overarched, overdrawn Instagram brows, though. When in doubt, channel Cara Delevingne.
There's no escaping a smoky eye this festive season, but that doesn't mean it has to look like the ones you put on for every party. Maybe flip the switch and do a reverse smoky, with shadow focused on the lower lid (a la Marc Jacobs). Or smudge up a perfectly crafted smoky eye for a little rock girl edge, like the models at Alberta Ferretti and Moschino. Ciaté London Skinny Shadow Stick in Troublemaker is the perfect tool.
This is a high-impact, low-maintenance trend for minimalists. Bring light and interest to just the inner corner of the eye with a metallic shadow (like Ciaté London Skinny Shadow Stick in Pussy Bow) or a liner. Dot on concealer where needed, keep the rest of the skin clean and well moisturized, and skip mascara. This is nonchalant, cool girl beauty at its best.
Maximalists needn't fear, there's a trend for everyone this season. Glitter is a huge movement this fall—primarily because of the launch of makeup magician Pat McGrath's Lust 004 Lipstick Kit, which featured deep berry or blood red lipstick shades meant to be encrusted with a coating of micro-fine red glitter. If a red tinsel lip is a little more than you were after, strategically placed hints of glitter were seen on fall runways. Place fine or chunky washes of glitter on the inner or outer corners of the eye, or coat your lid in the stuff (you'll need NYX Glitter Primer so the sparkles stay put). At Burberry, models looked like they were crying unicorn tears, with chunky shimmer on their cheeks, while Fausto Puglisi's silvery glitter eye was the bomb.
fall forecast
Free product added to bag
ADDED TO BAG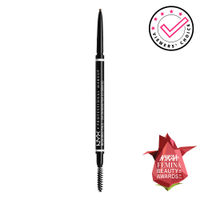 Rs. 615
Rs. 875
[-30% off]
Parizaad Khan Sethi
is a beauty and wellness editor based in New York. She was the former beauty editor at Vogue India and now serves as a contributing editor for the magazine. At age 5, Parizaad fell in love with an old cream blush she found in the back of her mother's drawer, and has been in awe of the transformative power of beauty ever since. When she's not writing about beauty, she researches advances in skincare as a hobby, and is constantly guinea-pigging herself in the name of beauty.
Stay in the know! Sign up to Luxe Letters