Freedom from Frizz
Looking like a Pomeranian wasn't on your Pinterest #HairGoals board? We're here to knock the air out of your hairdo - flight - By Parizaad Khan Sethi
We've all been there. Step out of the salon, fresh new blowout or bouncy curls giving you swagger. The next second, a reflective surface comes along and you have a halo. No, your karma hasn't got any better, but your hair's bloomed like an exotic wildflower, poufing up and out without any provocation. If this sounds like your life story, here's how to fix it.
Know why
First, here's what causes frizz: when there's humidity in the air (which, in most parts of India, is pretty much always) your hair, because of its porous structure, absorbs the moisture and puffs up. Dry and damaged hair tends to be more absorbent and will swell more.
Chemical processes like straightening and colouring as well as excessive heat from dryers and irons are likely to cause hair to frizz.
Try a pre-shampoo
That's just a fancy way of saying oil your hair. While various oils have been used for centuries to nourish the scalp and hair, coconut might be the most effective, as its molecules are small enough to actually penetrate the shaft of the hair strand and reach the centre. It needs a few hours to work, so before bedtime might be best (greasy-haired childhood flashbacks, anyone?).
Don't leave hair thirsty
To repair and nourish dry and damaged hair, start fixing it with every step, a nourishing shampoo and conditioner being the first. A sulfate-free shampoo will really help, as sulfates greatly dry out the scalp and hair. Kiehl's Superbly Smoothing Argan Shampoo a great sulfate-free option. Bonus: it's also free of silicones, which is important in a shampoo, as an excessive amount of silicones will coat the hair and not let conditioner nourish it. Silicones are very important in fighting frizz, but not at the shampoo stage (more below). Follow the shampoo with a rich conditioner or mask like Kiehl's Olive Fruit Oil Deeply Repairative Hair Pak (it's totally legit to use a mask in place of a conditioner every time you shampoo, and is especially great for thick hair; finer strands might feel weighed down).
Post-shampoo is key
Gently comb hair after washing and let it drip out. I'm confident no one vigorously wrings their hair like a medieval washerwoman anymore, so I don't need to insert that warning here. Don't even towel it dry, just blot gently. Immediately apply a few drops of an anti-humectant product. The best example is a silicon serum or oil, like Schwarzkopf Osis Magic Anti Frizz Shine Serum. Silicones are what help form a thin coating over the strand, keeping moisture out. Beeswax, and shea butter are other ingredients that will work in a similar way.
Style wisely
Air drying frizzy hair is the best and actually diffuses the puff party. I find diffusers or blast drying makes the frizz in my curly hair worse, so I give them both a miss. If you're going to be blow drying or flat ironing, don't use the maximum heat setting, dial down to medium.
And if you're using a hairspray to set your style, be aware that there's one ingredient in most sprays that will pretty much bust all your efforts: water. Either skip this step or look for an H20-free version.
But, truth be told, if all else fails, just let your 'fro fly high like an 80's rocker. Those guys were really #HairGoals.
Freedom From Frizz
Free product added to bag
ADDED TO BAG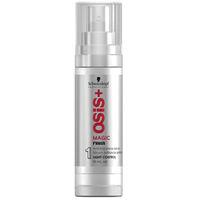 Rs. 800
Rs. 1000
[-20% off]
Parizaad Khan Sethi
is a beauty and wellness editor based in New York. She was the former beauty editor at Vogue India and now serves as a contributing editor for the magazine. At age 5, Parizaad fell in love with an old cream blush she found in the back of her mother's drawer, and has been in awe of the transformative power of beauty ever since. When she's not writing about beauty, she researches advances in skincare as a hobby, and is constantly guinea-pigging herself in the name of beauty.
Stay in the know! Sign up to Luxe Letters