Party Girl Checklist: Perfect Base
No one needs an excuse to get pumped up for the party season, but here are a few anyway. We begin our series of night-out guides by laying down the right foundation. - By Parizaad Khan Sethi
The essential: Healthy, glowing skin
This season, skin should be just like Goldilocks' porridge—just right. So anything too matte, or hyper-highlighted or contoured is definitely out.
1
No amount of makeup can take the place of good skincare. If you want your foundation and concealer to look like a real-life version of the most flattering Insta filter, pre-makeup skin prep is essential. This guide shows you exactly what to do.
The key to this complexion is getting the perfect amount of highlight, making it look lit from within. The best way to achieve that is to replace the moisturizer mentioned in the piece above, with an illuminating one, like M.A.C Strobe Cream.
2
Apply a thin layer of foundation with fingers or a makeup sponge. Depending on your skin type and preference, choose between a liquid, cream or stick foundation, or even a BB Cream. Powder foundations will leave skin too dry and matte. Go over areas that need more coverage with another thin layer of foundation.
3
If any spots, redness or discolouration still shows through, spot-treat those areas with a concealer, patting it gently into the skin. NYX Conceal, Correct, Contour Palette has a variety of shades, making camouflage a breeze. Apply a light dusting of translucent powder over the concealed spots, as well as on your T-zone.
4
Brush a whisper of highlight onto the high planes of your face (top of cheekbones, under the brow, temples and Cupid's bow). Pick a perfect shade from the NYX Strobe of Genius Illuminating Palette. The highlight should be minimal; more is definitely less here. A light blush or bronzer is optional, depending on the rest of your look.
5
Brows frame the face so don't forget those. Fill in any bare spots with a matt brown eyeshadow and a stiff brush. Don't colour in the entire brow—use short strokes, as if you're drawing in individual hair. Brush the hair upward with Ciaté London Instabrow Tinted Brow Gel to keep it in place. The final effect should be natural, thick and feathery, not a precise, sharp-edged arc that looks like it's drawn with a stencil.
Party Girl Checklist: Perfect Base
Free product added to bag
ADDED TO BAG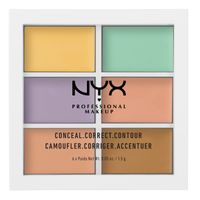 Rs. 925
Rs. 1325
[-30% off]
Parizaad Khan Sethi
is a beauty and wellness editor based in New York. She was the former beauty editor at Vogue India and now serves as a contributing editor for the magazine. At age 5, Parizaad fell in love with an old cream blush she found in the back of her mother's drawer, and has been in awe of the transformative power of beauty ever since. When she's not writing about beauty, she researches advances in skincare as a hobby, and is constantly guinea-pigging herself in the name of beauty.
Stay in the know! Sign up to Luxe Letters