Party girl checklist: The customized nail
Of all the makeup arts, nails are the most fiercely individualistic. The way you shape and design nails is all about personal creative expression. To get your party started, here are five on-trend nail shade families, and the ways in which you can dial up each one. - By Parizaad Khan Sethi
The essential: A made-to measure nail
Create your own standout nail design. There are no rules, just a few general guidelines and fun ideas
1
The naked nail + geometry
A nude nail may be simple, but don't mistake it as simplistic. It's the ultimate in minimalistic chic and the most reliable fallback. Plus, it works with pretty much any nail shape and length. Add-on: Geometric motifs like lines, triangles and blocks complement the minimalism of nude nails. Play with varying hues of nude (Nykaa Picnic Date Nail Enamel Combo has three complementary shades), or try black, white or navy.
2
The glitter bug + ombré
There's nothing quite as delightful as a set of sparkly tens. Glitter polish needs a different application; don't brush it on like traditional nail polish. Swipe some on the edge of a makeup sponge and dab that onto your nails, so that the fragments of glitter are deposited all over the nail. Repeat the process till the entire nail is one twinkly starburst, with none of your natural nail visible underneath. We love Ciaté London Paint Pots in Jewel and Fairy Whisperer.
Add-on: Add a touch of glitter just at the base or tips with an ombré technique. Paint your nails with a base colour. Dab glitter polish onto the sponge and just dab on the tips or base.
4
Stormy skies + tips
The varying shades of grey, from pretty pastel to bold gunmetal, make for the most in-fashion nail colours of the moment. Grey makes the perfect pairing for any ensemble, effortlessly transitions from day to night, and can be worn glossy or matte. Try Nykaa Nude Nail Enamel - Earl Grey Tea Cake.
Add-on: Neon yellow or pink tips set fire to grey nails, or switch the orientation and paint a neon stripe down the center of the nail.
5
Metallic + more metallic + negative space
The top choice for party girls everywhere, the metal nail is classic and cutting edge all at once. Silver and pale gold always shine bright, but this season try a rose gold or chrome, like Sally Hansen Complete Salon Manicure in Pedal To The Metal.
Add-on: The updated way to wear this trend is to create a tableau of mixed metals—forget that old rule of never combining silver and gold. Another way to add interest is to leave a negative space in interesting shapes (an unpainted space where your real nail shows through).
Party girl checklist: The customized nail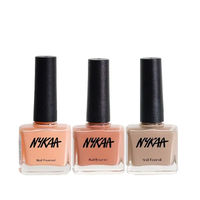 Rs. 369
Rs. 567
[-35% off]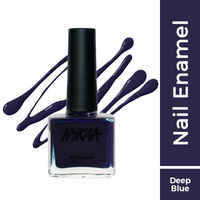 Rs. 142
Rs. 189
[-25% off]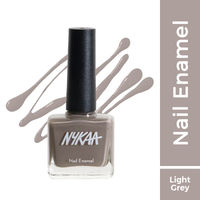 Rs. 142
Rs. 189
[-25% off]
Parizaad Khan Sethi
is a beauty and wellness editor based in New York. She was the former beauty editor at Vogue India and now serves as a contributing editor for the magazine. At age 5, Parizaad fell in love with an old cream blush she found in the back of her mother's drawer, and has been in awe of the transformative power of beauty ever since. When she's not writing about beauty, she researches advances in skincare as a hobby, and is constantly guinea-pigging herself in the name of beauty.
Stay in the know! Sign up to Luxe Letters