Party girl checklist: The jeweled eye
A dazzling sapphire-like smoky eye is both intense and playful all at once. It takes very little talent to master, but will be the jewel of your makeup skill set - By Parizaad Khan Sethi
The essential: A fierce, jeweled smoky eye
A party eye needs to be an attention-grabber, and for too long has the bland old black smoky been in the limelight. Blue eyes stormed fall runways this season and we've taken inspiration from a standout look created by Lisa Eldridge on the inimitable Cara Delevingne.
This look is perfect template to bring colour to your smoky eye—you can use any complementary colour combinations, like green and blue, pink and purple, or varying shades of brown, or grey.
1
The trick to intensifying eyeshadow and getting it to pop, is to dampen the brush slightly. Coat a damp eyeshadow brush with a blue-green shadow and pat it on your upper eyelid, from lash line to crease, to deposit a shimmery layer. We love the colour selection in NYX Ultimate Shadow Palette in Smoky And Highlight. Blend the edges of the colour well into the crease and outer corner of your eye with a dry fluffy eye brush (like the Real Techniques Shading Brush) till you can see blurred shadow on the edges, and not a sharp line.
2
Dip the dam brush in a darker blue or navy shadow, and define the outer corner of both eyes (imagine you're tracing a '<' shape along the outer lash line and crease at the corner of your eye. Blend well. So now you should have a blue base with smoked-out corners.
3
Glitter bunnies, this is your time to shine. You can top this look off by placing a glittery blue shadow just on the center of the upper lid, and pat it in well so it's blended in. Then, enhance and brighten the inner corners of the eye with a gold shadow.
4
Using a navy gel liner or a navy eye pencil like Clinique Skinny Stick in Skinny Jeans, line your top eyelid, sticking close to the lash line and winging it out slightly at the outer corner. Line the lower lash line as well. Fill in the water line with black for more intensity, or use the same navy eyeliner. Brave souls can venture to colour in the waterline of the top lid (this truly does change your smoky eye game, if you can manage it). For any water lining, please use a kohl or eyeliner that is formulated to be used inside the eye.
5
Curl lashes with an eyelash curler and pump on some black mascara. If you're really committed to the blue, try a coloured mascara like Ciaté London Triple Shot Mascara in Midnight Blue. Brush and fill-in brows; put on your base and conceal as usual; keep lips nude. Then go forth and conquer.
Party girl checklist: The jeweled eye
Free product added to bag
ADDED TO BAG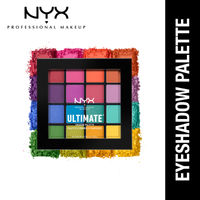 Rs. 1466
Rs. 1725
[-15% off]
Parizaad Khan Sethi
is a beauty and wellness editor based in New York. She was the former beauty editor at Vogue India and now serves as a contributing editor for the magazine. At age 5, Parizaad fell in love with an old cream blush she found in the back of her mother's drawer, and has been in awe of the transformative power of beauty ever since. When she's not writing about beauty, she researches advances in skincare as a hobby, and is constantly guinea-pigging herself in the name of beauty.
Stay in the know! Sign up to Luxe Letters