red alert
The perfect red lip is easy, always on-trend and can be your most potent accessory. It's a lifestyle more than just a beauty look - By Parizaad Khan Sethi
Red lips are instant glamour. They will change your face and life forever and make the angels sing. That's all well and good. But, if you're having trouble putting on a red lip—and having it stay there—then I'm talking directly to you.
Trick #1: Get used to it
Red lips are not a natural state of being. If you don't put it on and get used to yourself wearing lipstick, it will never 'suit' you. Try on a few to see which colours and undertones look good. The general rule is golden skin tones look better in a red with warmer undertones (shades that skew more orange) while fairer skins, look for red with a blueish base.
Wear it at home or lock yourself in the bathroom if you have to, to get used to it. And forget your personal prejudices long enough to give red a chance. So, no, your lips are not too big or too thin, or your skin too dark or fair.
Trick #2: Prep hard
For a long-wearing red lip, prepare your canvas. Read our Love your Lips Luxe Letter, which includes tips on how to prep lips for lipstick. They should be flake-free and moisturised.
Trick #3: Flirt around
No one ever said a red lip needs to be opaque and matte. Play around with different formulations and textures, from tinted balms to stains and pencils to crayons. A velvety red lip is perfection. But so is a glossy crimson (we love Ciaté London Patent Pout Lip Lacquer in High Five) or the current front runner, a liquid matte like Ciaté London Liquid Velvet Matte Lip Slick in Fast Lane. If you're intimidated, start small, with more transparent textures—stains are a perfect starting point. If you feel your lips are too big, concentrate on applying your chosen product to the middle of the mouth, then take your finger and blur the edges, so you have solid colour in the middle and a faint wash on the outer edges, making it look like you've just eaten a popsicle. Ciaté London Pretty Stix Cremé Shine Lipstick in Chick Flick is perfect for this technique.
Trick #4: But do try the classic
A creamy, semi-matte lip is a classic for a reason (the reason being it's fantastic on everyone).
After lip prep, line your natural lips and fill them in with a lip liner pencil. It helps colour last longer, but it's not indispensable. (If you're not the type to get a matching liner for every lipstick, look into 'invisible' lip liner—it's a waxy pencil that gives no colour, but lipstick stays on longer without feathering.)
Using either a brush, doe-foot applicator or the bullet straight up, apply one coat of lipstick. To get a clean line, balance your pinky finger on your chin. Then, put a one-ply tissue between your lips and gently press lips together. This blots away the oil in the lipstick, leaving behind only the pigment. Oils make lipstick slip around and fade faster. Another way to blot oil is to hold up a one-ply tissue to your lips and gently dust loose powder over the tissue with a fluffy brush.
Then, apply a second coat. If you want a creamy or matte feel, stop there. To play around with dimension, add a sparkly red or clear gloss just in the middle of the lips, to make them look fuller. To avoid getting it all over your teeth, pout, put a finger in your mouth and pop it out.
There you go, your lips will be bulletproof for days (or hours, at the least). Wear them well.
red alert
Free product added to bag
ADDED TO BAG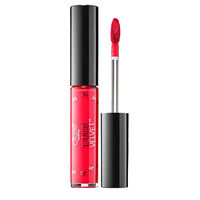 Rs. 1225
Rs. 1750
[-30% off]
Parizaad Khan Sethi
is a beauty and wellness editor based in New York. She was the former beauty editor at Vogue India and now serves as a contributing editor for the magazine. At age 5, Parizaad fell in love with an old cream blush she found in the back of her mother's drawer, and has been in awe of the transformative power of beauty ever since. When she's not writing about beauty, she researches advances in skincare as a hobby, and is constantly guinea-pigging herself in the name of beauty.
Stay in the know! Sign up to Luxe Letters