Screen guard
You're more likely to wear sunblock if you don't even know it's there. Here's three genius hacks to make sunscreen more wearable and bearable By Parizaad Khan Sethi
Confession: Sunscreen stresses me out. The chalky, greasy goo is probably the most hated skincare product on the planet, and with good reason. If it were not one of the most essential tools to help skin resist signs of ageing, most of us would have broken up with it and never looked back. But we have to learn to live together, so here's how to make your SPF-laden face feel more tolerable.
The first is by acknowledging that sunscreen, for all its flaws, has one super-cool redeeming feature: it's the best, most natural highlighter ever (many makeup artists swear by it). To make the most of this side benefit and score naturally glowing skin, the key is to let sunscreen's oils shine through on certain parts of your face, while mattifying other parts where grease is not welcome (the T-zone should be oil-free territory). Try one of the mattifying tricks below to help control extra shine.
1. Dab an oil-control product over SPF
This cheat is genius: after applying sunscreen and letting it set for a good five minutes, gently pat (do NOT rub) an oil-controller or de-slicker like the super-strong Bioderma Sebium Pore Refiner – Corrective Concentrate. It vacuums up all the excess oil, and leaves you feeling like a lean, mean, grease-free machine.
2. Use a finishing powder
Powder = best old-school grease guzzler. Slather on your sunscreen and wait a few minutes till it sinks in. Then, using a fluffy makeup brush, dust on a layer of loose powder over your T-zone (forehead, nose and chin). The powder will absorb oils, mattifying this area. Leave your cheeks and temples powder-free so you look naturally glowy, like a light bulb has lit up inside you. Both translucent or skin-coloured powders will work well, pick according to what you have handy. For oily skin, loose powder work better than those that come in a compact, the latter could have waxes that won't help oily complexions. But compacts are not a deal-breaker, they're better than having le oily visage.
3. Get friendly with blotting papers
Blotting papers are an oily girl (or boy's) best friend. Use these small sheets of absorbent paper to soak up any excess sebum your skin produces through the day—just gently press over the greasy parts of your face. You can use them to touch up multiple times a day without worrying about your skin looking cakey, which could happen when you use too much powder. Try Basicare Natural Facial Oil Blotting Paper.
Bonus tip: Swap your regular SPF for a mattifying sunscreen like La Roche-Posay Anthelios XL SPF 50+ Sunscreen - Dry Touch which is formulated for oily skins.
Screen guard
Free product added to bag
ADDED TO BAG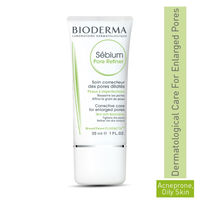 Parizaad Khan Sethi
is a beauty and wellness editor based in New York. She was the former beauty editor at Vogue India and now serves as a contributing editor for the magazine. At age 5, Parizaad fell in love with an old cream blush she found in the back of her mother's drawer, and has been in awe of the transformative power of beauty ever since. When she's not writing about beauty, she researches advances in skincare as a hobby, and is constantly guinea-pigging herself in the name of beauty.
Stay in the know! Sign up to Luxe Letters