twist and shout
Curls are like magical unicorns that need to be loved, nurtured and fed rainbows. Or, at the very least, the right hair products - By Parizaad Khan Sethi
Is there any paradox greater than curly hair? At the best of times it can be a glorious mass of bodacious spirals, waves and ringlets, a bouncy halo that exemplifies all good things that hair can do. But at the worst, it's a mass of rat-tailed, misshapen bits that don't curl as much as they collapse, or a ball of fuzzy doom. Full disclosure: I've lived through both situations, maybe more of the bad than the good, but I've never been tempted to chemically straighten. Because when curly hair works, it really is magic of a different kind. Here's how to have more magical and less tragic days.
Keep it long
Most hairstylists will advise you to grow out curly hair. Take that advice. When the hair is long, the weight helps pull it down instead of springing up and fuzzing out. Short hair is more likely to roll up on itself into a spontaneous puff ball.
Stop trying to 'tame' it
Listen. Curly hair has a personality. It's not as docile, meek and eager to do what you want as straight hair is. Resign yourself to that fact and own it! Frizz is also part of the curly-hair package, and the earlier you come to terms with the fact the happier you will be.
Handle less
However, that doesn't mean you proceed without caution. Curls need to be treated a certain way. 'Handle' curls as less as possible. Ask boyfriends of curly-haired girls—they learn quickly that running your fingers through her hair will never be in their future. There should be no unnecessary touching, pulling or rubbing hair because that will only disrupt the curl pattern. This is also important after shampooing. Never towel dry. Just comb it gently with a wide-toothed comb when wet, apply all your products and then LET IT BE.
Wash less
Curly hair tends to be drier, so don't wash daily. A nourishing shampoo like Organix Moroccan Argan Oil Shampoo will bring in hydration. Plus it's sulfate-free, so it won't strip the hair and scalp too much. To condition, I prefer a thicker, more nourishing hair mask as opposed to a light conditioner, as that gives it the juice it needs, preventing frizz. Look for ingredients like shea butter, like in Rene Furterer Karite Intense Nourishing Conditioning Cream.
Style well
The styling product you use will depend on personal preference. Gels give curls great definition but tend to get crunchy. I love running a couple of golf ball-sized blobs of mousse through damp hair, and following it up with a curl-enhancing cream like BBLUNT High Definition Curl, Curl Defining Leave-In Cream.
I prefer air drying to a diffuser as the latter tends to cause some bits to frizz out. If a diffuser works well for your curls, go for it. Another tip: You never really need to brush curly hair when it's dry. Tie it up, pineapple-style on the top of your head while you sleep and the next morning shake it out. If the ringlets don't get back into shape, mist them with a reviving spray for curly hair (Bumble + Bumble make a great one).
And to really rock second-day hair, spritz in some Toni&Guy Casual: Sea Salt Texturising Spray for a beach babe vibe.
twist and shout
Free product added to bag
ADDED TO BAG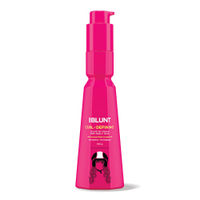 Parizaad Khan Sethi
is a beauty and wellness editor based in New York. She was the former beauty editor at Vogue India and now serves as a contributing editor for the magazine. At age 5, Parizaad fell in love with an old cream blush she found in the back of her mother's drawer, and has been in awe of the transformative power of beauty ever since. When she's not writing about beauty, she researches advances in skincare as a hobby, and is constantly guinea-pigging herself in the name of beauty.
Stay in the know! Sign up to Luxe Letters