Wedding Masterclass: The Reception
This is where makeup goes big or goes home—brides (and their artists) can pull out all the stops for the reception look, featuring bronze eyes and sculpted cheeks - By Parizaad Khan Sethi
1
Marathon foundation
Coverage and long-wear are the buzzwords when it comes to base for reception makeup—brides will be in the spotlight for hours, so think of this as a marathon, not a sprint. You will need a base that stays steady, like Bobbi Brown Long-Wear Even Finish Foundation. Consider a matt foundation as those last longer, even if your skin is dry (in that case, moisturize and prep like crazy; moisturizing masks before makeup should help). Under-eyes will need some help at this stage of the festivities— Bobbi Brown Creamy Concealer Kit will make panda eyes do the vanishing act; if they're particularly dark, use a corrector before concealing. Set it all with a loose powder and a makeup setting spray like NYX Long Lasting Makeup Setting Spray.
2
Highlight less, blush more
As foundation tends to flatten the face, a subtle contour and highlight will be helpful to sharpen features. We're all likely to OD on highlighter but resist the temptation—heavy stage lights + over-highlighted complexions = blown out photographs. Get your makeup artist to highlight so you look blissed-out and dewy, but not so much that your pictures look overexposed. And don't forget that blush is most important: in this frenzy of countouring and highlighting, blush has taken a back seat. No other product brightens up a face like it, so go forth and blush.
3
Sunset eyes
No one's going to separate an Indian bride from her smoky eye (and none should try). But you can definitely update it, and one way to do that is to opt for gorgeous shades of bronze and brown melting into each other. That also brings out the beautiful tawny tones in brown eyes. Highlight, shade, smoke and blend with the fantastic array of shadows in M.A.C's Eyeshadow X 15 Warm Neutral palette. A way to bring a hint of playfulness and pop to the eye is to trace a jeweled colour gel eyeliner into the lower waterline (can't go wrong with Bobbi Brown Long-wear Gel Eyeliner in Cobalt Ink or Violet Ink) and brush a similar coloured eye pencil (like Bobbi Brown Perfectly Defined Gel Eyeline in Violet Night) under the lower lashes. Add in a little eyeliner action and a strip of false lashes. Take our word for it—every bride needs more lashes than she's naturally blessed with.
4
Better than nude
Traditional wisdom says the lips should be nude when the eye is heavy. While that's true, bright stage lights might overwhelm a truly nude lip or a 'foundation lip' (lips the same shade as foundation). Opt for one with a hint of colour, like say a pinky-brown. Brown sounds muddy, but when your makeup is so heavy, you need something more substantial than a pale nude. Another option: Makeup geeks will be familiar with the term MLBB (My Lips But Better, which means the lipstick mimics and slightly intensifies the natural tone of your lips). One of your fun pre-wedding tasks can be to hunt for the perfect MLBB shade, or one just a bit darker. That will be a keeper for life.
Wedding Masterclass: The Reception
Free product added to bag
ADDED TO BAG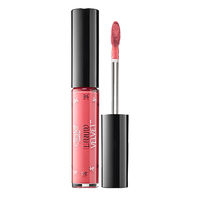 Rs. 1225
Rs. 1750
[-30% off]
Parizaad Khan Sethi
is a beauty and wellness editor based in New York. She was the former beauty editor at Vogue India and now serves as a contributing editor for the magazine. At age 5, Parizaad fell in love with an old cream blush she found in the back of her mother's drawer, and has been in awe of the transformative power of beauty ever since. When she's not writing about beauty, she researches advances in skincare as a hobby, and is constantly guinea-pigging herself in the name of beauty.
Stay in the know! Sign up to Luxe Letters