NYKAA X LE MILL: THE BOLD BRUNCH LOOK + CHLOÉ
It only takes three beauty pens to take brows, lips and cheeks from bare-faced to brunch-ready. What's even better? Our kit takes next to no space in our chic mini backpack - By Parizaad Khan Sethi
We're joining forces with our stylish BFFs at Le Mill to bring you a series of luxe letters where beauty and fashion collide to curate a bunch of red hot summer looks.
The iconic Chloé 'Faye' bag gets a do-over. We wholly approve of this backpack avatar for a day about town.
And this brow, cheek and lip girl-on-the-go look makes the perfect makeup pairing. Estée Lauder's The Brow Multi Tasker is a brow-arching machine. Brush hair upwards with the spoolie, fill in bald spots with the triangular-tipped pencil and draw the applicator containing brow powder over your arches to plump them up, if needed. Then set the hair with Ciaté London Instabrow Tinted Brow Gel.
Next, do up lips and cheeks with a burst of coral—that most perfect of summery hues. We love Estée Lauder Double Wear Stay In Place Lip Pencil in Coral—fill in your lips, blot and apply again, for long-staying power.
Top that with a swipe of Estée Lauder Genuine Glow Blushing Creme For Lips And Cheeks in Peachy Keen. Tap some over the apples of the cheeks and you're brunch-ready. Stuff these portable sticks in your Faye backpack for a quick post-meal touch up.
Find Chloe exclusively at Le Mill
NYKAA X LE MILL: THE BOLD BRUNCH LOOK + CHLOÉ
Free product added to bag
ADDED TO BAG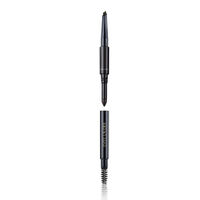 Parizaad Khan Sethi
is a beauty and wellness editor based in New York. She was the former beauty editor at Vogue India and now serves as a contributing editor for the magazine. At age 5, Parizaad fell in love with an old cream blush she found in the back of her mother's drawer, and has been in awe of the transformative power of beauty ever since. When she's not writing about beauty, she researches advances in skincare as a hobby, and is constantly guinea-pigging herself in the name of beauty.
Back
Stay in the know! Sign up to Luxe Letters