Pop quiz: What's the single biggest problem with almost every Indian woman's brows? Here's how you can avoid it, and in the process, get eyebrows that hashtags were created for - By Parizaad Khan Sethi
The eyes might be the windows to the soul but brows anchor and frame the face. To get them right you must:
Avoid long-term hair removal
Brow styles change with the times and today's cool is tomorrow's dated. Thin, overarched brows were the bomb five years ago, but now they leave us cold (Laura Prepon from Orange is The New Black, we're looking at you!) So, resist getting to a point of no return with semi-permanent methods of hair removal like laser or electrolysis. Groom full, bushy brows with techniques like threading or tweezing. Waxing often retards hair growth if done often, so wax sparingly.
Mind the gap!
Your top takeaway from this piece should be this: widen the gap. Nine out of ten Indian women don't remove enough hair between their brows (this totally scientific statistic comes from multiple surveys I've done in public places which involve me basically eyeballing everyone's brows). BUT IT'S TRUE, PEOPLE. Widen the gap! Brows that are too close together make your whole face look closed-in and make eyes seem close-set. Broadening the gap is truly life-changing. Pinky promise.
Be prepared to go to battle with your threading lady about this: for some reason, they refuse to widen it, almost as if revealing this sacred skin offends their morality. Stay strong, do it, you won't regret it. Plus, hair grows back, no harm no foul.
Here's how to measure exactly how wide apart your brows need to be:
Position one end of a pencil at the outer corner of your nostril (NOT the outer corner of your nose) and hold it up in a straight line. Mark the place where it meets the inner eyebrow—that's where your brow should begin. Repeat on the other side. The area in the middle should always be no man's land!
Sisters not twins
This one is a biggie—your eyebrows are sisters, not identical twins. Very rarely are two brows exactly alike. Your professional brow shaper can aim for symmetry, but a mirror image might not always be possible. You can fill in any missing features with a pencil like M.A.C Big Brow Pencil.
Make a statement
Makeup is never complete without some brow work to fill in gaps, enhance arches or curves and set the hair. Select a pencil or powder in a shade lighter than your brow colour (for black brow hair, use dark brown shades). Estée Lauder's The Brow Multi Tasker is a handy 3-for-1 with a pencil, powder and spoolie brush. Or go old-school and load eyeshadow on a stiff brush like M.A.C Brush 208, Angled Brow.
Draw fine, individual strokes, concentrating on bald patches or gaps. After you're done filling, run a spoolie over the brow several times, to blend in the colour. Set the brow with a gel, making sure to brush and set the hair upward; that gives a lifted, youthful feel. A touch of highlighter above and below the arch dramatizes the look, so look for two-in-one products like Clinique Instant Lift for Brows, with brow pencil and highlighter.
Kill-marry-hook-up
The harsh, painted-on Instagram eyebrow needs to die a quick death. Your brow shouldn't look like a painted or shaded block of colour—that technique is for colouring books. A brow should show individual hair and be thick yet feathered. Our brow crushes include Deepika Padukone, Bhumika Arora and Lily Collins, but the ultimate and perpetual queen of the eyebrow is and will remain Cara Delevingne. Brow down.
brow game strong
Free product added to bag
ADDED TO BAG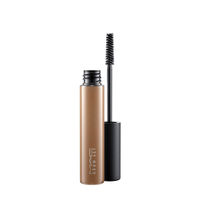 Free product added to bag
ADDED TO BAG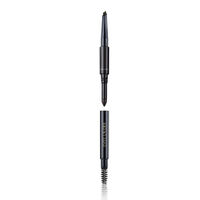 Parizaad Khan Sethi
is a beauty and wellness editor based in New York. She was the former beauty editor at Vogue India and now serves as a contributing editor for the magazine. At age 5, Parizaad fell in love with an old cream blush she found in the back of her mother's drawer, and has been in awe of the transformative power of beauty ever since. When she's not writing about beauty, she researches advances in skincare as a hobby, and is constantly guinea-pigging herself in the name of beauty.
Back
Stay in the know! Sign up to Luxe Letters