Don't let your favourite eyeshadow palette become a graveyard of unused shades. Here's an ingenious guide to using every square in sight - By Parizaad Khan Sethi
If you're anything like 99% of the eyeshadow palette-buying percent of the population, you'll have a palette (or a collection of them) in which you've hit pan on 3 shades, while the other 68 hues lay untouched. We've so enjoyed swatching Huda Beauty's Desert Dusk Eyeshadow Palette and the Textured Shadows Palette Rose Gold Edition, that we were compelled to find ways to use every one of the stellar shades. Here's how:
1.
Usually, palettes contain a mix of light, medium and dark shades. Light shades are applied to areas you want to highlight or bring out. They usually go on the brow bone and the inner corner of the eye. Medium shades set a base to anchor and bring together light and dark shades, so those are usually on the lid and used to blend the darker shades so that there are no harsh lines. The darker colours enhance areas (lash line) or make them recede (lid crease). Glitter or foil shades can bring drama to the lid or upper and lower lash lines.
2.
You can experiment with a mono lid (using just one colour all over), a two-toned lid (a lighter colour towards the inner corner and a darker shade blended in the outer third of the eye) or three or more shades, to create a gradated look. Whichever type you go for, make sure to blend the shades well into each other and into the surrounding skin, so there are no harsh lines.
3.
If a full glitter lid seems too overwhelming and screams 'showgirl', use those glitter shades as accents—apply to the inner corner of the eye, or to the lower lash line. This accenting can work all by itself, keeping the rest of the eye nude, or even in tandem with another eyeshadow shade.
4.
Use your lower lash line strategically. This tiny amount of real estate can be used to show off shades that would be too overwhelming on the upper lid. Glitter, heavy metals, bright neon or pastel shades and deeply coloured matts can all be used to intensify the lower lash line. Keep the upper lid either: 1. Neutral 2. In the same colour family as the lower or 3. Contrast it with the shade on the lower lid
5.
To intensify any colour, dip a damp eyeshadow brush in the shadow and apply it. The intensity will zoom up a few notches. This trick super-intensifies metallic shades.
6.
Dip a damp liner brush in black shadow and apply it like an eyeliner. Actually, wet any shadow and use it as eyeliner! Have a metallic or fluoro yellow that you've never touched? A baby blue or hot magenta? Line them all up and start winging out! To go one step further, get your hands on some Inglot Duraline, which magically transforms any shadow into liner.
7.
Load the dark brown matt shades onto a small, stiff angled brush and fill in your eyebrows, and then set with a clear brow gel like M.A.C Brow Set.
8.
Call on the pale, pearlescent shades to double up as a highlighter. Brush them over the browbone, on cheekbones, over the Cupid's bow and in the inner corner of the eyes. Similarly, dark brown matt shades can serve as a contour, in a pinch.
9.
Make any lipstick metallic by pressing a metallic shadow over the lipstick.
10.
Mix some powder shadow with clear nail polish for a fun, DIY manicure.
Paint the rainbow
Free product added to bag
ADDED TO BAG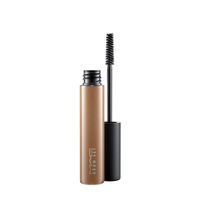 (49)
Parizaad Khan Sethi
is a beauty and wellness editor based in New York. She was the former beauty editor at Vogue India and now serves as a contributing editor for the magazine. At age 5, Parizaad fell in love with an old cream blush she found in the back of her mother's drawer, and has been in awe of the transformative power of beauty ever since. When she's not writing about beauty, she researches advances in skincare as a hobby, and is constantly guinea-pigging herself in the name of beauty.
Back
Stay in the know! Sign up to Luxe Letters