When you've got a jar of this wunderkind sitting on your dresser, you're duty bound to use it in more ways than just basic - By Parizaad Khan Sethi
We've said this before but it's worth repeating: beauty editors love nothing more when they find a really well formulated basic product that stands the test of time. Sure, it's great to have creams which contain the stem cells of ants that regenerate into unicorns, but a workhorse serum or moisturizer that you can rely on to see you through any skin freakout is worth its weight in gold. We've had the hots for Clinique Moisture Surge Extended Thirst Relief for nearly forever, like that cute boy in high school you never got over. Luckily, this is skincare and not unrequited love, so just go out and buy a jar of this moisturizer and put it to multiple uses. Some of our favourite ways to do this are:
Mix with Vitamin C for an antioxidant boost

Sometimes our skincare products sync together so beautifully—just like Lego pieces—to give our complexion more power to cope with the elements, and it makes us feel like angels are singing heavenly hymns just for us. That's what happens when we mixed Clinique's new Fresh Pressed Daily Booster with Pure Vitamin C with our trusty Moisture Surge and applied it in the daytime before sunscreen. Every beauty girl/boy knows that Vitamin C dramatically increases the efficacy of sunscreen. Plus, it gives skin a much-needed anti-oxidant boost, as well as works on improving texture and tone. We love a good Vitamin C serum, and this one is the bomb, pairing perfectly with our fave moisturizer and sunscreen to keep skin hydrated, and shielded, while giving it the fuel it needs to repair.
Pile it on for a deeply hydrating mask

Sometimes your face feels like smooth Italian leather, while on other days it more resembles the worn out sole of your favourite pair of shoes. On those down days, a quick masking routine will help you get your skin back on track. Perform a quick cleanse and exfoliation, and spray on some Clinique Moisture Surge Face Spray Thirsty Skin Relief or any other hydrating face spray. In a pinch, water will do. Then, slather on a chunky layer of Moisture Surge and let that sink in for ten minutes while you lay back and meditate. Okay who are we kidding—while you lay back and scroll through Instagram. Wipe the excess off and take a selfie of your plump, newly glowing visage.
Use it as a thinner for foundation

Listen, I know we all agree that the creation of full coverage foundation is irrefutable proof that god exists and wants our lives to be happy. But some days, full coverage foundation is just a bit too much to handle. Like what if you want to go get an afternoon coffee and need your skin to look cute, but know that heavy coverage foundation at 3pm isn't kind of cute. So that's when we crack open our Moisture Surge, dribble in a few drops of foundation and create a custom-made tinted moisturizer that gives us the coverage and glow we need without looking like a Bollywood extra who's hit the pancake hard.

Hit all your dry spots Moisture Surge is packed with great hydrating agents like hyaluronic acid, squalene and glycerin, and is a handy pot of goo to slather onto any part of the body. For rough elbows, knees, ankles, feet or cuticles, apply some Moisture Surge to damp skin and then top that with a richer moisturize to seal the hyaluronic acid and glycerin. It's a one-two punch that really targets crocodile skin.
Quench your Thirst
Free product added to bag
ADDED TO BAG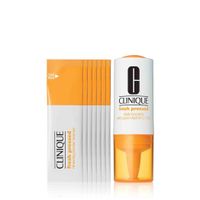 Parizaad Khan Sethi
is a beauty and wellness editor based in New York. She was the former beauty editor at Vogue India and now serves as a contributing editor for the magazine. At age 5, Parizaad fell in love with an old cream blush she found in the back of her mother's drawer, and has been in awe of the transformative power of beauty ever since. When she's not writing about beauty, she researches advances in skincare as a hobby, and is constantly guinea-pigging herself in the name of beauty.
Back
Stay in the know! Sign up to Luxe Letters