Wedding Masterclass: The Nails
Save some special love and attention for your nails. These mere millimeters of toughened skin are the ultimate finishing touch - By Parizaad Khan Sethi
It's no exaggeration to say many beauty-crazy brides plan their nails for each event before they plan their makeup (totally guilty!). But it's also understandable why nails are sometimes overlooked by frazzled brides who are trying to fit in all the exfoliating, masking, deep conditioning and facial-ing before the day. But a beautifully polished nail is more impactful than we imagine, so save some mind space for the mani.
To make your pre-wedding prep easier, get a nude gel nail at a salon that specializes in them. And then, if you have the time before each function, ask your makeup artist to paint your chosen nail enamel colour over the gel (regular nail polish can be painted over gels and removed easily). That way, you have chip-free nude nails that go with everything if you run out of time, and a rainbow if you don't. Win win.
If you do manage to change shades for each event, one handy guideline is to try and keep the nail in opposition to the rest of your look. If you're aiming for a pastel princessy mood in the clothes, keep nails short and dark. Try and stay in the same colour family, however. With a mint green outfit, wear a dark teal or emerald nail; with pale pink wear Bordeaux or wine shades). On the flip side, if your look is dark and a little edgy, let the nail bring softness and colour with nude, pink or coral.
As for shapes, much depends on your nails, but in general, short and square is always the most current and 'fashion-y', while longer shapes, in pale or nude shades, tend to be more girly. Must avoid at all costs: the long and dark nail. That only works one night of the year: Halloween.
Here are some of our favourite colour families—and the pedicures they pair best with.



1
Nude and pastel pink
The best option for busy brides who don't have time for polish changes. Non-shimmery nudes and pastel pinks (like Ciaté London Paint Pot in Strawberry Milkshake) are the ultimate classic—no outfit or jewellery will clash with them.
Pedi pick: Pick a bright shade for toes: reds, corals, hot pink and even deep teal or navy
2
Nude and pastel pink
The grey nail is so painfully chic right now it hurts. It's the updates version of the nude, and as versatile. Reality check: It takes some work to find a grey that doesn't make Indian skin tones look dull, so plan a trial run before the big day. Try Ciaté London Paint Pot in Pillow Fight or Nykaa Nude Nail Enamel in Earl Grey Tea Cake.
Pedi pick: The same bright shades that pair well with nudes, or even metallic tones
3
Textured black
A black nail (like Ciaté London Paint Pot in Unrestricted Glam) works particularly well when the rest of your look is fairy princess. Instead of going full goth, make a black nail more interesting by adding a top coat of texture, like Ciaté London Paint Pot in Couture Noir.
Pedi pick: A bright shade, metallic or nude are all great options
Wedding Masterclass: the nails
Free product added to bag
ADDED TO BAG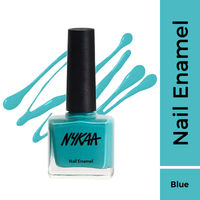 Rs. 152
Rs. 179
[-15% off]
Free product added to bag
ADDED TO BAG
Rs. 143
Rs. 179
[-20% off]
Parizaad Khan Sethi
is a beauty and wellness editor based in New York. She was the former beauty editor at Vogue India and now serves as a contributing editor for the magazine. At age 5, Parizaad fell in love with an old cream blush she found in the back of her mother's drawer, and has been in awe of the transformative power of beauty ever since. When she's not writing about beauty, she researches advances in skincare as a hobby, and is constantly guinea-pigging herself in the name of beauty.
Back
Stay in the know! Sign up to Luxe Letters