Nykaa's Guide On How To Use Your Makeup Brushes
Foundation Brushes
Squeeze a blob of foundation on
the back of your hand. Pick up the formula
with the brush and start applying in short,
downward strokes, blending as you go
for a smooth finish.
Concealer Brush
Use a concealer brush to gently pat on concealer
(one shade lighter than your foundation)
on under-eye circles, spots, discoloration and other imperfections. Gently tap the
product to bend well.
Powder Brush
The powder brush should be in every makeup collection.
Use it to apply any type of powder product. The fluffy
bristles easily pick up formula and evenly spread it over
your face. Pat the brush into the powder product, dust
off excess and apply in circular motions.
Eyebrow Brush
The nylon bristles on the angle tip side are perfect for
applying powder precisely. Flip over and use the other
end to blend the powder for a natural finish.
Perfect to use with powder, cream and gel formulas.
A great two in one tool!
Kabuki Brush
A flat top brush head with very soft and dense fibers,
it provides a flawless, high definition finish
with liquid or cream foundation without any
absorption of product. Simply use in light,
circular motions.
Eyeshadow Brush
An eyeshadow brush is used to evenly apply
powder or cream eyeshadows on your eye lids.
Apply it in a windshield-wiper motion
for intense color. Larger brushes can be
used to highlight the browbone.
Eyeliner Brush
This nifty tool can be used for more than tracing
a rim of winged gel liner along your upper lashes.
It's perfect for anything that needs a straight edge.
Use to line lashes or smudge out your kohl
for a smoky effect.
Lash/Brow Comb
You can use this multipurpose tool
for grooming both your lashes and brows.
Comb through your lashes to get mascara
clumps out or use the brush to comb
and tame your brows.
Blush/Bronzer Brush
The easiest way to add definition to your face. Just
sweep on some bronzer in the hollows of your cheeks
using a fluffy angled brush. Perfect for applying blush
or highlighter, too.Swirl the brush on the formula and
apply in a sweeping motion.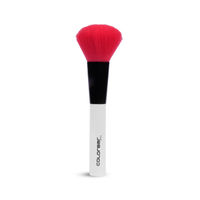 Lip Brush
Use the tiny squared-off tip to get a crisp,
defined line of color. Dab lip color onto
the brush and apply in short strokes to
blend evenly across your entire lip.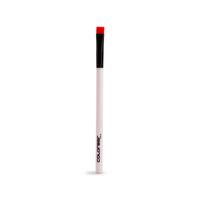 Beauty Blenders
Not technically a brush, but an essential tool
nonetheless. Perfect for using with liquid foundations,
concealers, and pretty much anything, it gives a
smooth, flawless finish, especially those hard to reach
creases around the nose and eyes.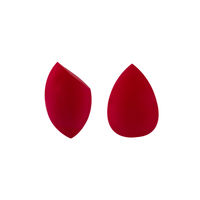 get behind the look